For Internet Marketers, continuing education is extremely important in order for you to stay relevant in the digital world. It does not only help you drive more traffic to your business but will also help you get better conversions.
As IMers, you are expected and required to upgrade your knowledge and skills to cope up with the fast-pacing world of internet marketing, but what is learning and why do we need it anyway?
Learning is Education for Life
One of the strongest instruments for becoming a successful internet marketer is education. In fact, it's one of the most powerful drivers of development. Education is not just learning new things or memorizing a bunch of crammed ideas and principles though. It's so much more.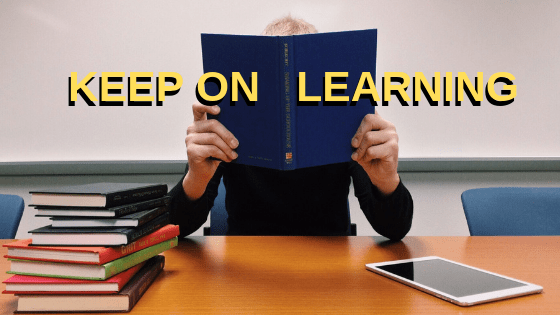 If we analyze the root of the word, we'll find out that it came from "educe," which means "to draw something out from within yourself that was latent and that needed a little help to be developed." So learning does not just include external knowledge that we can perceive but also the internal wisdom we can conceive.
The following are the very reasons why continuing education is important. It's crucial to remember these because they will help you deliver better results.
Learning is a lifelong activity. It does not stop after getting a degree.

Your schooling needs not to stop simply because you've attained the degree or certification you were after. As the ancient Greek philosopher, Socrates, famously said, "Education is the kindling of a flame, not the filling of a vessel." When it comes to your professional training, the fire of your knowledge should continue to burn and even grow throughout your career.

Learning improves focus, self-esteem and overall confidence. It does not just sharpen it.

Learning something new not only helps the brain function more effectively. It can also sharpen your skills to help you remain professionally revitalized, making you do your best work.

Learning provides numerous practical benefits in work.

People who've decided to upgrade their work skills and knowledge not only keep up with the latest technologies and business techniques, but they also receive other benefits, such as the training needed to realize career goals and become the top of the game.
Importance of Continuing Education

The importance of continuing education is especially pivotal for business owners and affiliate marketers. Running a company requires upgrading your personal skills and setting an example for your employees. Participating in supplementary training programs, taking online marketing courses, and finding new ways to help your company can help you become as prosperous as possible.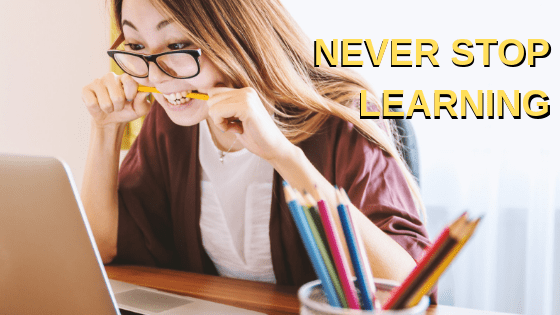 Continuing education has become a baseline for business owners. Keeping up with your courses is essential, but you can also take your training a step further and use it as an opportunity for further advancement. If you fully invest in your continuing education, you have a higher chance of getting to the top of your game and you can eventually use what you've learned to come up with new innovations that will take your business to the next level.
In addition, these training programs and events are great places to network: attending continuing education conferences that cater to your industry niche are a great way to learn the ins and outs of your field and, at the same time, meet potential partners and business contacts. The people sitting next to you at your training program could be prospective partners, clients, or collaborators. With the new expertise you gain, you could all build better businesses together.

For Internet Marketers, continuing education is extremely important if they want to be up-to-date.  As IMers, you are expected and required to upgrade your knowledge and skills to cope up with the fast-pacing world of internet marketing. Learning from the experts can help you achieve your business goals faster. It saves you a great deal of time and money as you don't have to dip your fingers on every bucketful of ideas available for you to explore.
Continuing education can help you drive more traffic to your business and help you get better conversions. To make the tangible rewards of continuing education even clearer: The more time and investment you put into pursuing additional education, the closer you get to SUCCESS.

Building your way up and becoming successful in internet marketing is hard. So having the right resources and getting the best kind of education is highly essential. That's why we say, having the right resources, mentors and community are the KEYS!

The best education can be derived through the help of experienced, well-trained and knowledgeable Internet Marketing Experts. Connecting with the right kind of people that will mentor you is significant to have the success that you have always dreamed of. You have to remember that building a business is not easy and doing it alone makes it twice as hard.

As an Internet Marketer that is especially true when starting out as a Solopreneur, you can usually be found sitting at home in your pajamas, staring into a computer screen figuring out the next steps to achieving success online.
You don't have family and friends hanging around, cheering you on. As a matter of fact, the last thing they want to do is hang out with you and watch you peck away on your keyboard. That's why having a mentor is such a huge factor in your future success.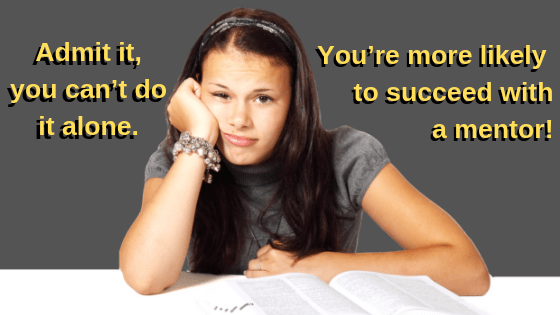 Research and surveys prove that having a mentor is important to success. Survey says 80 percent of CEOs said they received some form of mentorship and 93 percent of startups admit that mentorship is instrumental to success.

Your chances of success in life and in business can be amplified by having the right mentor. The valuable connections, timely advice, occasional checks — together with the spiritual and moral guidance you will gain from having a mentor — will literally leapfrog you to success.

A quality mentorship has a powerful positive effect on entrepreneurs. Having someone who practically guides you and shares your worries with you — often soothing your fears with their years of experience — keeps you reassured that you'll be successful. Having a mentor will help you keep your head high, especially in hard times.
Internet Marketers often deal with depression when they are unable to meet their goals and expectations. In fact, all business owners do. The impact of depression on entrepreneurs is often underreported. But entrepreneurs without mentors bear the burden the most. A mentor who has experienced the highs and lows of running a business is in the perfect position to give positive and soothing words of advice to you when things refuse to go your way. And not only do they have the right words to share, but they would also have ideas to help you navigate your way to success.

Remember that if want to succeed in your internet marketing venture or any other home-based business, you need to have a mentor that can guide you to reach your goals faster. Don't ever feel like you have to do everything by yourself.  Accept help from the right mentors. Let education become your top priority; develop your inner potential by exposing yourself to inspiring experiences that bring you important insights. Share your experiences with fellow marketers and be willing to learn. Take advantage of everything continuing education has to offer.

And regardless of what level you are in your business (newbie or veteran), get connected with a community of like-minded business owners who share both your vision and desire to succeed in life and business.

We encourage you to take a closer look at this membership site. This is the right opportunity for you to get in touch with smart and experienced mentors that can pave the pathway to your success. Learn more here!