An interesting statistic on how to be a good guest on a podcast is that people who click on a podcast consume it immediately.  
Compare that with webinars, where there is a strong trend of subscribing and missing the event and the replay reminders are largely ignored. 
Combine this with the fact that people's cars run a strong second to home as the place where people prefer to access podcasts. Additionally, proof that people who tune into podcasts usually listen to most of each episode. You may find yourself with compelling extra reasons to stretch out of your comfort zone to produce podcasts. 
But what if you don't want to produce a podcast yourself?
Well, there's a much easier way to make good use of podcasting and reach those who prefer to listen. It's getting yourself featured on a hot podcast, where your host has already done all the groundwork, built up his or her following and taken care of all the tech. 
When you know how to be a good guest on a podcast, you can instantly leverage your host's loyal audience – the audience that your host did the work of building and nurturing.  
While the written word is a powerful medium, seeing you on a live webinar or hearing your voice on a podcast, with all its warmth, inflections, animation, passion, and liveliness, boosts the degree of personal connection your audience feels. To see the laughter in someone's eyes or the animation on their face is to get a pretty good idea of what that person is all about. To hear their voice, with all its quirks and humanity, also helps people to get to connect with the real, authentic you. 
Your host also vouches for you, by talking you up or by featuring you as a guest on the show. It's your host who introduces you as an expert in your topic. Plus, you get all the benefits of celebrity-by-association with the audience's well-liked podcast host. 
Not only does this help if you know how to be a good guest on a podcast, but it also defines your branding, and also instantly boosts your visibility and plausibility. Deliver on your promises, and you'll find you're suddenly in demand. 
Influential people in your field will: 
Quote you

 

Ask you to guest on their own podcasts, webinars, or blogs

 

Increase your subscribers AND your sales

 
All this will happen while you're busy with other things, after your interview. 
Being a podcast guest is a two-way transaction – a win-win situation. That's the most important thing to understand.
You are also there to: 
Make your host look good

 

Delight her audience

 

Enhance her authority

 
When you make her feel as if she can confidently say to her people, "I'm the person who can get you expert guests," you've taken a vital step on how to be a good guest on a podcast to ensure that you'll be invited back. 
By consciously adopting and following a system for podcast guesting, you'll also ensure that listeners will tune into episodes of any show just because you are the guest. They will remember that you were articulate, helpful, clear, concise, and enjoyable to listen to when they heard you speak on a podcast. 
But make no mistake. This is an art form we're talking about. That's the bad news.
The good news is, it's an art form you can master easily if you educate yourself on the absolute essentials to being the perfect podcast guest.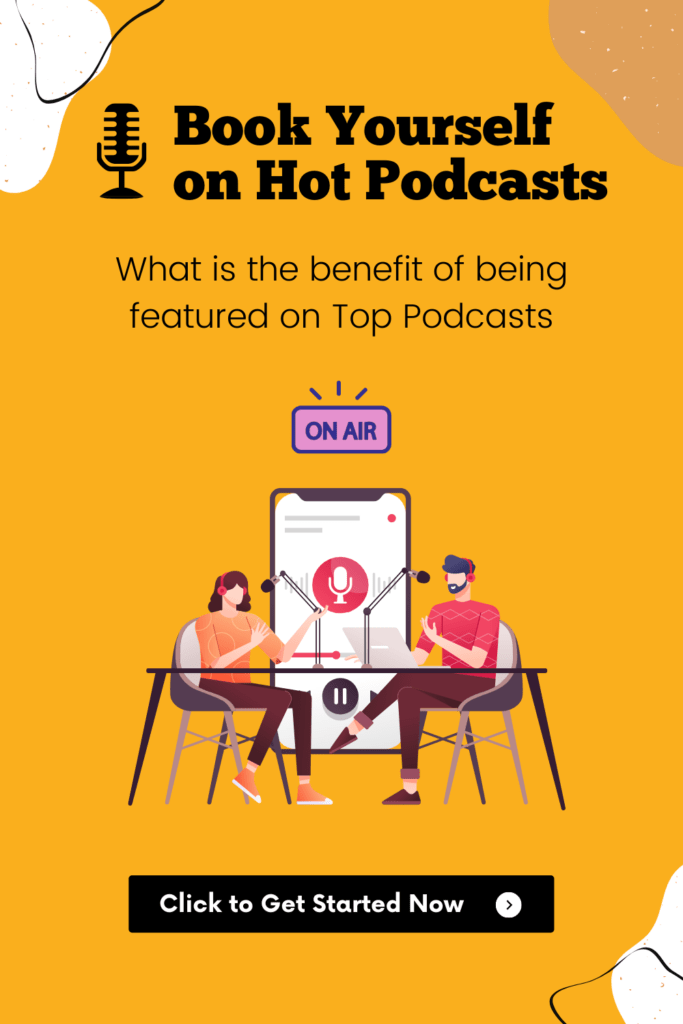 We have seven of the best steps to land you on a hot podcast. You don't have to worry about missing steps or reaching out to someone the wrong way. 
Introducing the EBA Profit Planner, "Book Yourself on Hot Podcasts". It comes with: 
Textbook

 

Workbook

 

Calendar Tasks

 

Idea Generator

 

Complete checklist to make sure you don't miss a step or go off-course

 
The Profit Planners are tiny systems that you can simply plug and go. Building strong systems for your business is what you need to grow and succeed. 
Click here to learn more about the "Book Yourself on Hot Podcasts".